Costume Gallery, Part II
Clicking on an image will display a larger-resolution, full-color JPEG version: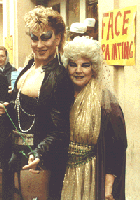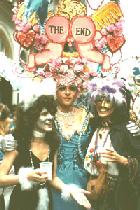 The guy with the dragon on his back (above) had a CO2 tank or something inside, and he would pull a lever and the dragon would breathe huge clouds of smoke - it was really cool.
The last two pictures are from the "Mardi Gras Mask-A-Thon" - a contest hosted by a local television station each year at the foot of Canal Street the morning of Mardi Gras.
In the morning, usually after the Rex and Zulu Parades, people migrate downtown in costume to view the festivities - the best time to see costumes is during this period, taking a path through the French Quarter, down Canal, and up St. Charles (or in the reverse depending upon where your base of operations is located).